It was particularly cold in winter and spring, and the rare wind and snow hit southern China. The whole society felt its cold. At the beginning of the spring, another "storm" of price hikes swept the lighting industry, and many manufacturers were suffering. Foshan, as the production base of commercial lighting and engineering lighting in China, appeared to be "very hurt" in the face of this storm.
Steel first "difficult"
Since the surge in copper prices in 2006, steel and aluminum have also been eager to try, but only a small increase. By February of this year, after the Spring Festival, steel prices have skyrocketed. The lowest increase was 36%, while the highest increase was as high as 50%, and the price of aluminum rose by more than 10%. According to the information released online by the China Iron and Steel Association, in the middle of February, domestic cold and hot rolling (the steel widely used by commercial lighting and engineering lighting enterprises) has risen sharply. The market price of cold rolled 1.0mm is in addition to Urumqi and Changsha. The city price exceeded 6,000 yuan / ton, Foshan reached a record 6300 ~ 6500 yuan / ton.
The main products of commercial lighting and engineering lighting enterprises are downlights, grille lamps, spotlights, etc. The main raw materials are steel and aluminum, accounting for 60% of the total cost. One boss said: "Our business is selling Iron sheet." In the case of a steel price increase of 40%, the product cost increased by 20%.
Workers "kidnapped" bosses
The implementation of the "New Labor Law" and the shortage of labor have caused an increase in labor costs. The basic salary of 800 yuan has become a yellow flower yesterday. In the Foshan labor market, the ideal requirements for wages for mature skilled workers are 1,500-2,000 yuan/month, and a company in Danzao Township of the South China Sea has a condition of 1200 yuan per month for the general public. After the New Year, the salary of the business enterprises in Foshan area increased by 10%, and the increase in labor costs also increased the cost of products by about 5%.
In mid-March, there was a strike in a business in the South China Sea caused by workers demanding wage increases. Several hundred workers were suspended for three days. Finally, with the compromise of the factory, the factory said helplessly: "We don't realize the happiness of being a boss. On the contrary, I feel that I was kidnapped by the workers."
Sanyin also came to "spoil"
The price increase is not only raw materials, labor, but also the three industries and supporting industries. According to the response of the commercial production enterprises, the packaging properties used in the finished products have increased by 20%. Although the logistics link has not increased in price, the lack of diesel is plaguing logistics companies. Once the high-priced diesel fuel costs are passed on, it will inevitably lead to an increase in the logistics cost of the commercial enterprises.
Delta is the first to raise prices
The Nanmei District of Foshan City, Damei Lighting Co., Ltd. is a commercial enterprise with an earlier price increase in Foshan. It opened the first price adjustment in the first half of March. The price adjustment is also relatively high, reaching 15~25%. Sales manager Feng Shaoyu said frankly: "We are biting the price of the scalp, because if it does not rise, the pressure of increasing costs will not be able to digest, and the factory will die directly. Simply step in place, there may be opportunities for a fight."
The reporter asked the dealer's reaction after the price increase, Feng Shaoyu said that for the time being, because it was not the peak period of the project, the sales volume of the lamps was small, and the market did not have much movement. Besides, the whole society is raising prices, and most dealers can still understand. However, Delta will no longer develop new dealers this year. This year's focus is on strengthening the existing dealer team.
April general price increase
Most other companies are more cautious about the price increase of raw materials, worried that the price adjustment will affect the already occupied market, and adopt a wait-and-see attitude in mid-March. When the NVC, which saw the "Chinese lighting vane", had already raised its price by 15%, the Foshan area also had the first shot of the price adjustment of Delta, and they also expressed their clear attitude. Jiamei, Leike, Jinli, Jabil, etc. will all conduct product price adjustments in early April. Huaqiang is also in the midst of intensive discussions on price increases. Most companies are adjusting prices by 5-15%.
Some enterprises also have "full grain surplus" and do not worry about price increases. According to Zhou Hu, marketing director of Shunde Tovey, Tovey has hoarded thousands of tons of steel before the price increase of steel, and it can be digested for two months. This time only the labor cost was resolved and the product price was adjusted by 5%. After the completion of the digestion, if the steel price does not fall back, it is necessary to raise the price again.
Small factories will be eliminated
In the face of price increases, brand companies responded positively. Some unbranded companies relying on counterfeit production are in a dilemma. On the one hand, they must guard against the risks of litigation, and on the other hand, they must overcome the pressure of price increases. It is also difficult for a factory to have strength, no strength, no treatment, no recruitment. Some small factories simply did not open the door after the Spring Festival. The reporter called the directory manager on the inventory manager of Shunde Daliang, and was told: "We have stopped producing lighting products, we are suspending production and waiting for transformation, and new projects have not been found yet."
?; Word crisis to find a way: to the lighting dealers to make a statement 2008-04-08
?;Yu Huaijun: Shandong home lighting market battles 2008-04-08
?; Lighting into the northwest: Shaanxi lighting market full scan 2008-04-08
1

Model: B101-RTMD
Display: 10.1" TFT High Definition Capacitive Touch Monitor (16:10)
Resolution: 1280*800 pixels
LCD screen: IPS Panel
Brightness: : 300 cd/squa
Contrast ratio: 800:1
Power supply: 12V DC
Response time: 6ms
Viewing angle: Full viewing angle 178/178
Shell: tempered glass screen
Touch Panel : G+G
Surface hardness: 7H
Transparency: >90%±5%
Operating temperature: 0 to 50°C/20%-80%(non-condensing)
Humidity temperature: 0-85% at 40°C (non-condensing)
Storage temperature: -20 to 60°C/5-95%(non-condensing)
Storage humidity: 5%~95%
Connection Type: USB
Response time: <10ms
Operation voltage: 3.3V-3.6V DC
Max supported points : 10
System supports: Windows XP/7/8/10, Android and Linux
LCD screen, touch panel, main board controller, LVDS cable, press plate, button board, power adapter, VGA cable and USB line.



Other touch modules we have:
8 inch, 9.7 inch, 12.1 inch, 15 inch, 15.6 inch, 17 inch, 19 inch, 21.5 inch, 23.8 inch, 24 inch, 27 inch and 31.5 inch.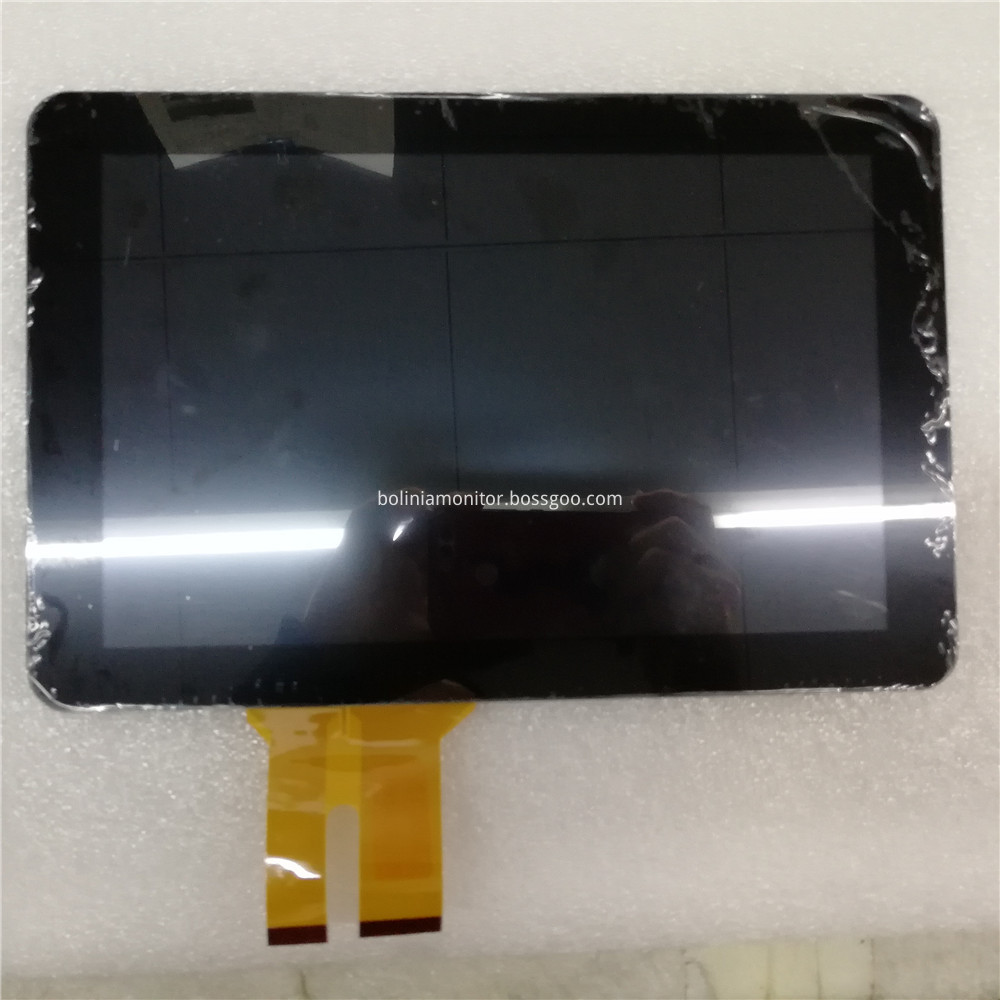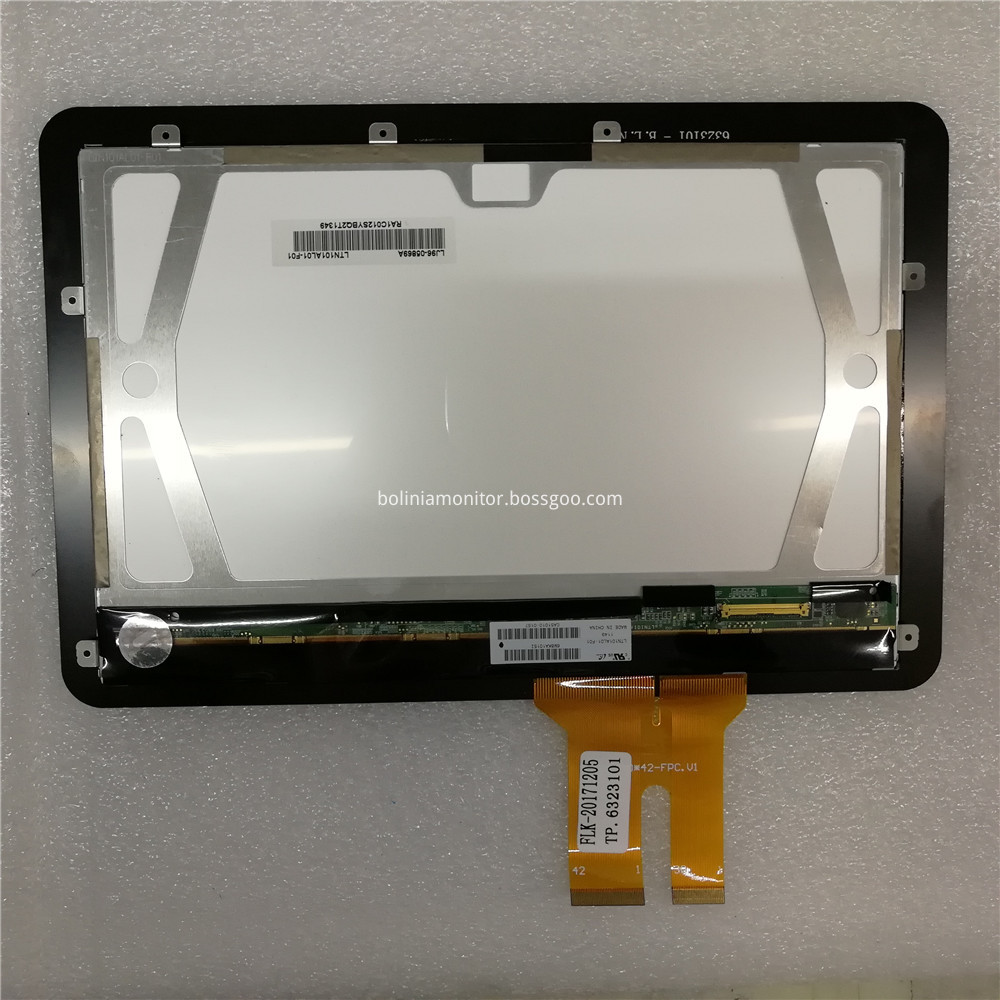 Shenzhen Bolinia Technology Co., Ltd. is a manufacturer for 7-32 inch lcd monitors and displays since 2004. Original factory with assembling line in Shenzhen. Product ranges from plastic monitor, metal CCTV Monitor , Resistive Touch Monitor, capacitive Touch Monitor , Open Frame Monitor , high brightness monitor, Embedded Monitor , SDI monitor, portable monitor to Android all in one PCs. Square monitors or wide screen monitors are available with different resolutions. Members in Alibaba, Global Sources and Made-in-China. Newly launched 10.1-32 inch All In One PC and portable HDMI monitors.

Plastic or metal casing monitor from 7 inch to 24 inch.
Single touch monitor with resistive 4 wire and 5 wire for options from 7 inch to 22 inch.
Multi-touch projected capacitive touch ( PCAP Touch or PCT) monitor from 8 inch to 24 inch.
SDI monitor from 15 inch to 21.5 inch.
High Brightness Monitor from 10 inch to 22 inch.
Mirror Image Monitor with size: 8 inch, 9.2 inch, 10.4 inch, 12.1 inch, 15 inch, 17 inch, 19 inch, 20.1 inch and 22 inch.
All in One PC with Android system with 10.1 inch, 13.3 inch, 15 inch, 15.6 inch, 18.5 inch, 21.5 inch, 23.6 inch, 24 inch, 27 inch and 31.5 inch.
Portable LCD Monitor with 12.5 inch , 13.3 inch and 15.6 inch.

Products mainly used in ATM, POS, CCTV security, Information checking, Kiosk, BGA repairing station, Lottery terminals, microscopes and similar applications. Portable LCD monitors perfectly compatible to PS4/PS3/PS2/Xbox ONE/Xbox 360, game consoles, PCs, Macs, Raspberry Pi, laptops, cameras and tablets.
Other products:
IPS Panel, Touch Module, IPS LCD Screen, 10.1 Inch Module, Widescreen Mmodule, LCD Module
Shenzhen Bolinia Technology Co., Ltd. , http://www.bolinia.com