Guide : Do you still think your phone screen is too small? Do you want to display the applications and functions on the mobile phone on the big screen? Let MHL technology help you realize your dream ... MHL connects the mobile phone to the TV through a line, so as to project the screen of the mobile phone on the big screen, you can deliver the ultimate experience of all audio and video
The mobile phone has more and more functions and it is getting easier to use, but the screen is too small after all. Larger screens, more powerful sounds, and more refreshing interactive experiences, such as how can smartphones be used when users want to play the Need For Speed ​​game?
"The screen of the mobile phone is too small. To display it on a large screen, it is necessary to connect the mobile phone with a large-size display so that it can deliver the ultimate experience of all audio and video." Judy Chen, President of MHL Alliance, accepted In an interview with Yijing Weekly, "The MHL standard was set up to solve this function and turn a smartphone into something like a PC, an Internet TV, or a game console."
MHL is the abbreviation of "Mobile High-DefiniTIon Link", and its characteristics can be seen from the name. MHL connects the mobile phone to the TV via a cable, thereby projecting the screen of the mobile phone onto the large screen. Users can see TV series and movies from Sohu, Tencent and other video sites on the big screen as long as they connect their mobile phones to TV, or play games with outstanding visual effects such as Infinite Sword.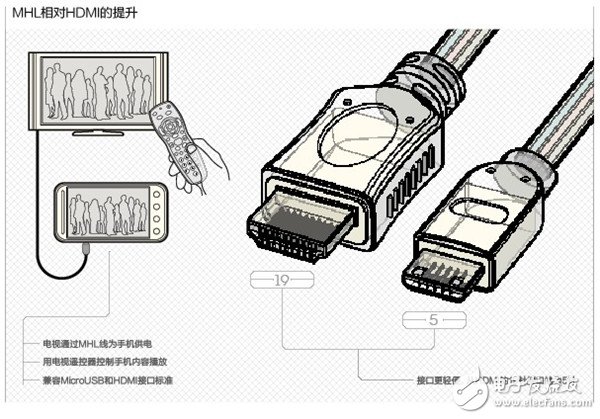 Almost every high-definition TV today has an HDMI port on the back, and most mainstream mobile phones can also be connected to watch movies and play games, but few users do so. Judy Chen believes that this is a problem left at the beginning of the standard formulation. She said: "HDMI never takes mobile into account, so you see that the HDMI cable is very thick and expensive. And the MHL standard was born from the beginning to link mobile phones with other devices."
MHL is simpler than HDMI. It reduces the large 19-pin plug to a 5-pin small jack, making it more suitable for size-sensitive handheld devices. The new structure can also make data storage and transmission easier-MHL transmission speed is three times that of traditional HDMI.
One problem with cable TV is distance. Generally speaking, there is a distance of several meters between the TV in the living room and the sofa, and a long cable is required for the user to sit comfortably and switch TV series. In response to this, MHL added a two-way interactive function, users can use the TV's remote control to control the movie playback on the phone. In addition, MHL can also transmit data and charge the mobile phone at the same time. The charging power is the same as the charger that comes with Apple iPad, which is also lacking in the HDMI standard.
Judy Chen attaches great importance to this, she said in an interview, "This is a very important feature of MHL. It is very difficult for smartphones to be self-sufficient now. If you do n't need extra cables to charge them, it will take a short time. The battery will run out. "
As of August this year, the MHL Alliance has released the 3.0 standard, which supports ultra-high-definition video and audio image transmission at 4K resolution (4096 & TImes; 3072). This technology alliance, formally established in April 2010, was co-founded by five companies including Nokia, Samsung, Sony, Toshiba, and Silicon Image. At a technical forum held in Shenzhen this September, when asked how MHL compares to HDMI, MHL Technology Alliance President Judy Chen replied, "I think it is a replacement relationship."
The initiators of the MHL standard, Silicon Image, Toshiba and Sony, are also HDMI promoters. The relationship between the two standards is closer to natural evolution.
HDMI stands for "High DefiniTIon MulTImedia Interface", and its rise is due to the demand for high-quality audio and video. The first widely adopted digital video interface was the DVI interface introduced by Silicon Image, Intel, Compaq, IBM and other companies in 1999. However, the DVI interface is mainly used to serve PC monitors, and can only transmit image signals. It needs to be connected to other speakers through other interfaces, and it has not been popularized on TVs. To this end, in April 2002, Hitachi, Panasonic, Sony, Toshiba, Thomson, Philips and Silicon Image formed the HDMI organization, and released the first HDMI standard in December of the same year.
HDMI completes video and audio transmission in one line, and the interface size is smaller than DVI. Technically, HDMI can be regarded as the enhancement and extension of DVI. Both are compatible. Its biggest feature is that it can transmit uncompressed high-resolution video and multi-channel audio data in digital form. By 2007, In-Stat data has shown that the global shipments of 143 million HDMI devices exceeded DVI devices.
MHL's mission is indeed different from its predecessors. In the past 5 years, the rise of smartphones and tablets has increased the performance of mobile device processors by more than 10 times. While traditional TV manufacturers have begun to decline, Sharp laid off 5,000 people in 2012 due to performance problems. TVs, from the earliest CRT picture tubes, to flat-angle color TVs, to thin and light LCD screens, are only moving towards larger sizes and higher definitions-all improvements are in the screen itself.
It is also in the past few years that some companies have begun to use processors for TVs. Some companies directly install the processor in the TV, so that smart TVs such as Internet TV and Android TV have appeared. Other companies start from the outside and project the phone screen onto the TV through TV accessories like set-top boxes. Apple TV, Xiaomi Box and Chromecast TV stick are all such products.
At this stage, MHL needs to establish more advantages for itself. According to survey data provided by the MHL Alliance, although many TVs now have Internet access, only 20% of users will use this feature. Analysys Mason analyzed 6600 smart TV users this year and found that more than half of the users did not even connect the smart TV to the Internet.
The MHL Alliance believes that one reason is that the TV's Internet access function settings are complex, and the remote control is not suitable for users to access the Internet. Therefore, they also set the mobile phone access to be plug and play during development, which can be controlled by the mobile phone, and it can also be completed by the remote control of the TV itself. The MHL can use the Micro-USB interface to make it more easily accepted. Before HDMI also tried to exert force on mobile terminals, but mobile phone manufacturers need to specifically add an interface for it.
The underlying technology of MHL is basically from Silicon Image, and now they are developing an interface called MHL Show, and continuous improvement. Henry Li, the sales director of Silicon Image, said, "In the past, when you connected your mobile phone to a TV, only a vertical picture was displayed in the middle of the screen. This user experience is too cold. We now have a built-in MHL UI and many user interfaces. Available, it will be more user-friendly. "
At that time, HDMI emerged with the support of 1080P HD video. Now MHL 3.0 is also promoting standards through high-quality audio and video. The 4K ultra-high-definition video standard it provides is almost four times as detailed as 1080P. MHL also supports enhanced digital surround sound applications, including Dolby TIUE HD and DTS-HD.
MHL's rival USB standard already supports 4K format in its 3.1 standard. Judy Chen believes that MHL's advantage lies in cost. She said: "USB3.0 is used to transmit signals, but its cost is for the transmission of video and audio. The cost is very high. "
MHL needs the support of hardware manufacturers to truly gain market recognition. At present, MHL's authorization fee payment method is to pay some annual fees first, and then pay a certain authorization fee based on the number of outputs, but the specific number is not disclosed. Companies that promote the MHL standard are relatively active. Samsung has full support from Galaxy series, S series and Note series, HTC and Sony are also connected.
Support from TV manufacturers is equally important. At present, most TVs do not have MHL-specific interfaces, and they need to be connected to HDMI interfaces with alternative products such as MHL converters. And this converter can not directly charge the mobile phone, and need to be connected to a power source, which is more troublesome to use.
But this situation is changing. At the IFA exhibition in Berlin this year, companies such as Haier, Changhong and Hisense launched TVs with MHL. Mobile phone chip manufacturers such as Qualcomm and MediaTek have also launched mobile phone chip solutions that integrate the MHL standard. Morningstar, a strong TV chip, also said that it will use MHL integration as a standard for TVs in the future. "The alliance is just an agreement maker and promoter, and it is the chip company that really brings the MHL together." Judy Chen said. According to the data provided by Judy Chen, there are currently about 220 manufacturers supporting MHL technology, and 330 million products will use MHL technology. Applications include mobile phones, TVs, car audio control systems, AVR microcontrollers and so on.
At present, the application prospect of MHL is not only in the video field, but also provides many mobile phone companies and home appliance companies with many application possibilities. Family entertainment is the biggest breakthrough. Zhao Zhijun, director of China Mobile's mobile game base operations support center, said: "The mobile game industry has already done a lot. But the family game market or the TV game market is still blank in China. We have been considering with Mobile phone technology is becoming more and more developed. How to connect mobile game behavior with game behavior in a fixed place? MHL seems to help us do this. "
For MHL, the long-term challenge comes from unbound wireless transmission technologies, such as DLNA. However, there is still a shortcoming in the speed of wireless transmission. From the perspective of specifications, the current MHL bandwidth is 10 times that of Wi-Fi wireless technology. Due to bandwidth limitations, wireless transmission of high-definition video signals requires compression at the front end and decompression after transmission to the TV, resulting in delays.
Such delays have a great impact on interactive applications, especially games. Fan Jinhua, the person in charge of Morningstar Technology Center, mentioned, "Compression will inevitably cause delay. The current (wireless) delay is better at 50 milliseconds. 50 milliseconds is enough for general games. But for some fighting classes In terms of action, or shooting games, many people can still experience it. "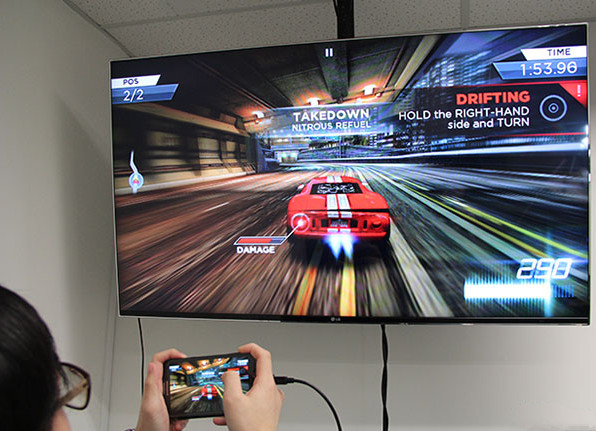 However, Silicon Image has developed some high-definition video transmission technologies similar to those provided by MHL in the wireless field. "Power consumption is still a major issue that confuses wireless technology. Unless the power consumption problem is resolved, the users of wireless technology are still few," Judy Chen said. "I think the wireless transmission scheme and MHL's wired transmission scheme. It cannot be replaced by each other, because this is the different needs of the market. "
In the field of wired transmission, the days of HDMI may not be long.
Clean Room Lab,Laboratory Cleanroom,Iso Cleanroom Standards,Clean Room Laboratory
Dongguan V1 Environmental Technology Co., Ltd. , https://www.v1airpurifier.com