The device introduced in this article can be used to listen to the weak sound indoors or outdoors. As long as a sound detector is installed somewhere, the sound of a place can be clearly heard on the 100M FM radio.
Circuit working principle
The circuit is shown in the figure. It is composed of a highly sensitive microphone amplifier and a wireless transmitting device. The amplifier is composed of two operational amplifiers in a four op amp integrated circuit LM324.
When the electret microphone MIC picks up a weak sound signal, it generates a signal voltage across the MIC, which is coupled to the (3) pin of the first-stage operational amplifier through the capacitor C1 for amplification. Its amplification gain reaches more than 20 dB. After the first-level amplification, it is output from the (1) pin, coupled through the capacitor C3, and the potentiometer RP is controlled to enter the (5) pin for the second-level amplification. After this second-level amplification, it is enough to amplify any weak sound signal to Enough amplitude, then coupled by C5 into the high-frequency transmission circuit.
The high-frequency oscillation circuit is composed of a special high-efficiency transmitting tube V and an LC oscillation circuit. Its resonance frequency is designed in the range of 88 ~ 108MHZ in the FM band. The carrier wave after the audio modulation is transmitted to the surrounding space through the transmitting antenna W, using an FM radio It can be heard outside 100M, where R5 and R7 are the negative feedback resistors of the operational amplifier. Adjusting the resistance can change the amplification gain.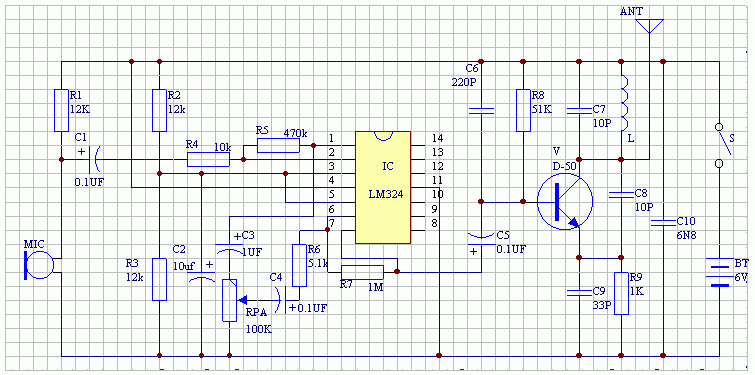 Component selection and debugging
MIC selects miniature electret microphone. It is suitable to add a sound collecting basin on the outside. Put the MIC into a plastic tube with an inner diameter of 25 mm. Paste a layer of fleece on the inner surface of the plastic tube to absorb sound to improve the quality of the sound source. . The launch tube V adopts high-efficiency special launch tube D-50 or D-40, etc., the magnification is greater than 100. L uses enameled wire with a diameter of 0.31 mm to wind 6 turns on a drill with a diameter of 5 mm. After the tire is out of shape, the coil can be elongated to about 5 mm. The antenna can use 40 cm flexible wire.
All the components in the circuit are of good quality, and the welding is correct, you can power on debugging, adjust the potentiometer PR to make the output signal strength of (7) pin moderate, you can use high-impedance headphones to connect between C5 negative and ground to monitor, adjust the L The spacing or the capacity of C is that the transmission frequency falls within the range of 88 ~ 108MHZ, and the distance is adjusted to change the distance. Generally, the sound signal transmitted by the detector can be clearly heard outside 100M.