The semiconductor lighting industry is one of the sub-sectors of LED downstream applications. Under the global low-carbon economy, the future of the semiconductor lighting industry is brighter. Industry insiders expect the compound growth rate to exceed 30% in the next five years. China's competent authorities at all levels are also planning to introduce corresponding support policies to promote China's semiconductor lighting industry to become bigger and stronger.
It is reported that in the future, China's semiconductor industry will enter the stage of strong government support and enterprises. According to Guan Baiyu, deputy inspector of the Electronic Information Department of the Ministry of Industry and Information Technology, the Ministry of Finance is planning to promote the relevant support policies for semiconductor lighting. This year, a number of national standards and industry standards related to semiconductor lighting will be approved and approved. It is being researched and developed. In addition, in view of the long industrial chain of semiconductor lighting, several departments are involved in the process of product-related standards development. In order to do a good job in standard setting, in the future, the department will work together in the ministry to implement joint efforts among the ministries and commissions, and adopt a working mode of production, learning, research, and linkage to promote the development of the semiconductor lighting industry.
Zhang Xiaofei, CEO of Gaogong LED, said that if the Chinese authorities follow the example of overseas developed countries and increase subsidies, China's semiconductor lighting industry will further accelerate. Data from Japan show that due to the subsidy policy implemented by the Japanese government, the share of semiconductor lighting in Japan has rapidly increased from 0.01% in 2009 to 10% in February this year.
Local governments have begun to build a semiconductor lighting industry base and accelerate the pace of promotion and procurement of semiconductor lighting. Taking Dongguan as an example, after being officially identified as the "Ten Cities and Ten Thousand" semiconductor lighting application demonstration project pilot city by the Ministry of Science and Technology, Dongguan said that in 2011, a total of 40,000 semiconductor lighting lamps were promoted and applied. From 2009 to 2011, the project It is implemented in three batches and requires a total investment of 150 million yuan. Chengdu has also introduced relevant subsidy policies. From 2010 to 2012, Chengdu plans to implement LED lighting product application demonstration project plan, promote the application of 400,000 LED lamps for lighting, and realize 645 million yuan investment in demonstration projects.
Many private equity funds have also begun to "bet" the semiconductor lighting industry. The chief partner of Safran Fund believes that China's energy-saving lamps account for 70% of the global market, but semiconductor lighting accounts for only 1% of the entire market. Considering the scale, technology and quality of China's semiconductor lighting industry, the semiconductor lighting industry will have a competitive advantage in the future.
According to the Oriental Securities Research Report, according to the LED production process, the industry can be divided into upstream epitaxial wafer production, midstream chip manufacturing, and downstream chip packaging. Among them, the upstream and midstream technologies are high in content, and the capital input density is large. The most competitive and risk-prone areas. In the LED industry chain, LED epitaxial wafers and chips account for about 70% of the industry's profits, LED packaging accounts for about 10-20%, and LED applications account for about 10-20%.

About Silicone Pet Shoes :
Why do we need shoes for dogs?
1.Since the sole of the pet's foot is very fragile, it needs to be protected from stab, scald, bacterial infection and so on
2.Pets often scratch sofas, car covers and other bad habits when left alone, and wearing shoes can prevent this from happening
3.Pet shoes can help you slack off. After you take your pet for a walk,you needn't to wash it.
4.Silicone pet shoes is waterproof,and its texture is soft,don't worry the shoes hurt your pet.

The silicone pet shoes have many other advantages,if you buy it,you will discover.
Silicone Silicone pet shoes introduction:
1.Product name:Silicone pet shoes, Silicone Dog Shoes ,Dog Shoes and Boots,Waterproof Pet Shoes,Non-Slip Pet Shoes,Pet Shoes for Rabbits
2.Place of origin:Guangdong China
3.Color:any pantone color
4.Logo:Printing,debossed,embossed
5.MOQ:500pcs.
6.Package:1 pcs/opp,customized design is available.
7.Design:Customized/stock
8.Certification:FDA,LFGB,SGS,ROHS,etc.
9.Usage:Use for pet.
10Silicone pet shoes for reference.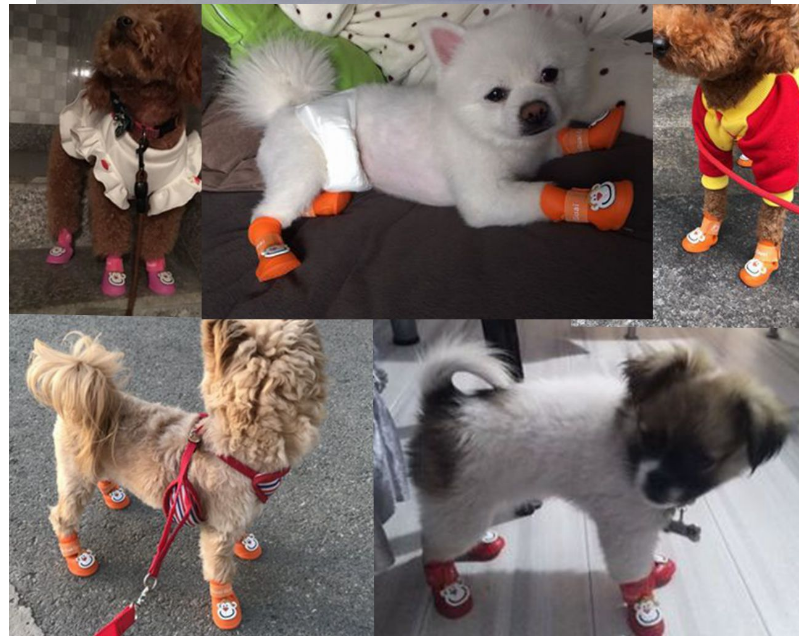 Silicone Pet Shoes
Silicone Pet Shoes,Silicone Dog Shoes,Dog Shoes and Boots,Waterproof Pet Shoes,Non-Slip Pet Shoes,Pet Shoes for Rabbits
OK Silicone Gift Co., Ltd. , http://www.oemsiliconegift.com