International Consumer Electronics Show, Las Vegas, Nevada, January 6, 2016 — Global leader in smart apparel design and smart health software Canadian company Hexoskin has chosen Cypress Semiconductor Corporation (NASDAQ stock) Transaction code: CY) Bluetooth® Smart EZ-BLETM PRoCTM module for use in the Hexoskin Smart Physiology Indicator Monitoring Shirt.
Designed for athletes, fitness enthusiasts and health researchers, the Hexoskin Smart Smart Shirt monitors heart, breathing and activity data with quick-drying fabrics and multi-laboratory sensors. Cypress's Bluetooth Smart Module collects data and pushes it to the user's smart device for analysis and tracking by the free Hexoskin app or other popular fitness applications. With the programmable features of the module, Hexoskin shirt products are compatible with popular third-party fitness applications such as Strava, Runkeeper, RuntasTIc, as well as third-party fitness equipment and smart watches. The module's low power consumption provides Hexoskin Smart shirts with twice the battery life of Hexoskin's first generation.
Jean-François Roy, chief technology officer and co-founder of Hexoskin, said: "The Hexoskin Smart smart shirt can help those who don't like to wear a fitness bracelet or chest strap to easily monitor heart rate, respiratory rate and sleep activity. Certified Saip The Las BLE module allows us to configure the software by drag and drop, bringing the product to market faster, and offering a richer set of product features and extending battery life to 30 hours."
Dex Solda, Head of Cypress's Modules Division, said: "In the highly competitive fitness monitor and mobile health device market, Hexoskin has developed a truly innovative approach to health management. Cypress's BLE solution is Wearable device manufacturers offer confidence and flexibility before launching differentiated products from competitors."
Cypress's EZ-BLE PRoC module integrates programmable PRoC BLE, two crystals, and a chip on the ARM® Cortex®-M0 core in a compact 10-mm x 10-mm x 1.8-mm space Antenna, a metal shield and multiple passive components. Customers using this module to design can use the Bluetooth SIG to assign Cypress's unique Certified Design Identification Number (QDID) 67366 to apply for the Bluetooth logo on their products. The module meets radio management standards in markets such as the US, Canada, Japan, Korea, and Europe, saving approximately $200,000 in hardware R&D, testing, manufacturing, and certification costs.
The application details of the Cypress BLE component are built into PSoC Creator, including all supported BLE protocol version application examples and hundreds of mixed-signal system design application examples. The $49 BLE Pioneer Development Kit makes it easy to use Cypress's BLE devices while maintaining the original design of the popular PSoC 4 Pioneer kit. The development kit includes a USB BLE transceiver that can be paired with the CySmart simulation tool to convert the designer's Windows® PC into a BLE debug environment. Designers can insert the EZ-BLE PRoC module evaluation board into the BLE Pioneer development kit for quick and easy evaluation of the EZ-BLE PRoC module.
About Hexoskin
Hexoskin is a global leader in the design of smart clothing for health monitoring. The Hexoskin Smart smart shirt is widely used by NBA players, Cirque du Soleil and thousands of athletes, coaches and health professionals around the world, providing a new and convenient way to understand the health of the human body in the real world. In addition to serving its customers in sports technology and health research, Hexoskin is also a smart clothing supplier to aerospace and military organizations in the United States and many other countries.
About Cypress
Cypress (NASDAQ: CY) provides the core high performance, high quality solution for today's most advanced embedded systems for automotive and industrial and networking platforms to highly interactive consumer and mobile A wide range of equipment. We have a broad portfolio of differentiated products including: NOR Flash, F-RAMTM and SRAM, TraveoTM microcontrollers, the industry's only PSoC® programmable system-on-chip solution, analog and PMIC power management ICs, CapSense® capacitive Touch-sensing controller, wireless BLE low-power Bluetooth and USB connectivity solution. Cypress is committed to providing innovative, industry-leading support and superior system value to customers around the world.
The Paper Towel Dispenser is generally placed in the hotel bathroom or guest room bathroom, and is an essential item in the hotel guest room supplies. All bathroom space, regardless of its size, will always have more storage and storage space waiting for you to discover.

The paper towel machine is mainly used to produce box continuous removable household paper towels and industrial oil-absorbing paper towels. The paper towel machine is mainly used to wipe hands in factories, hotels, offices and kitchens. It is a disposable consumer product with huge market potential.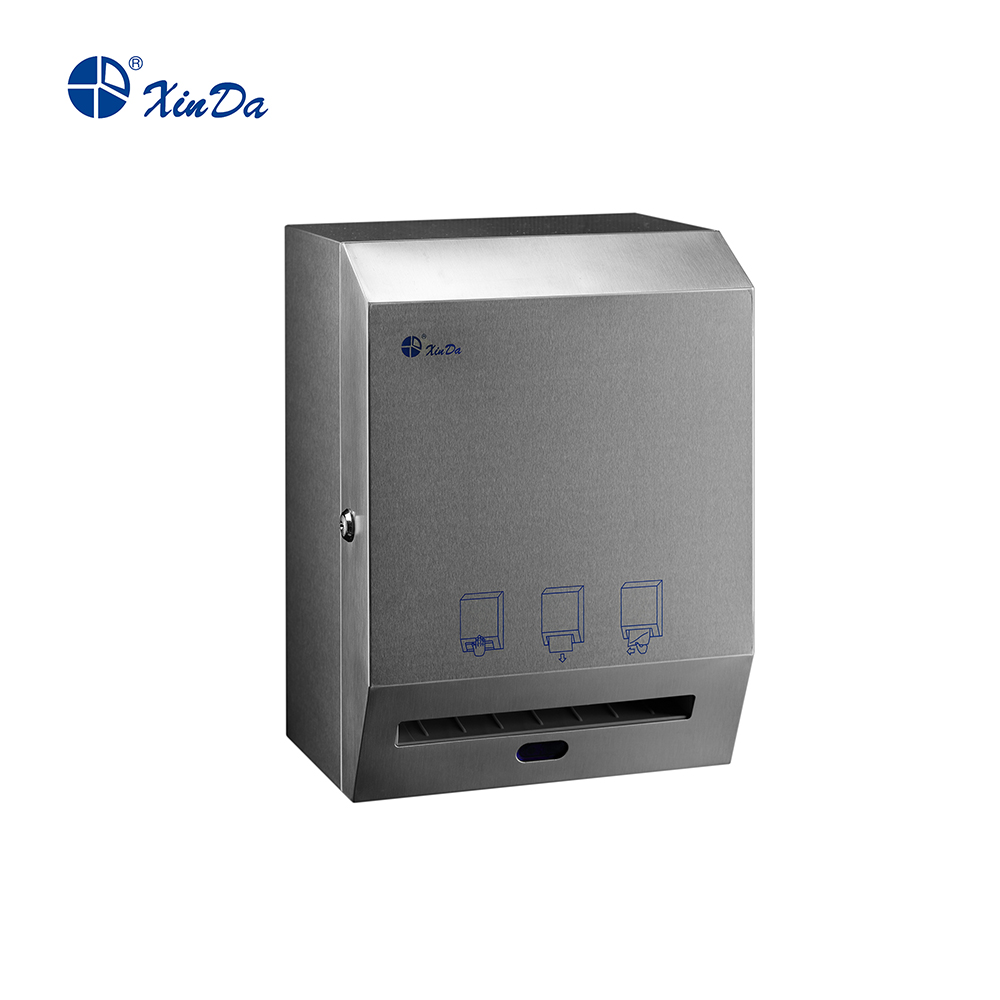 Paper Towel Dispenser
Auto Paper Towel Dispenser,Paper Towel Roll Dispenser,Hand Paper Towel Dispenser,Touchless Paper Towel Dispenser
Taishan Jie Da Electrical Co., Ltd , https://www.ts-jieda.com