On the afternoon of September 27, Xiaomi's autumn new product conference was held in Beijing. At the meeting, the co-founder of Xiaomi Co., Ltd. and Wang Chuan, the head of Xiaomi TV, released Xiaomi's first artificial TV, a total of two sizes: an innovative split millet TV 3s 65-inch and a mono-designed millet TV 3s 55-inch, respectively. The price is 4999 yuan and 3499 yuan.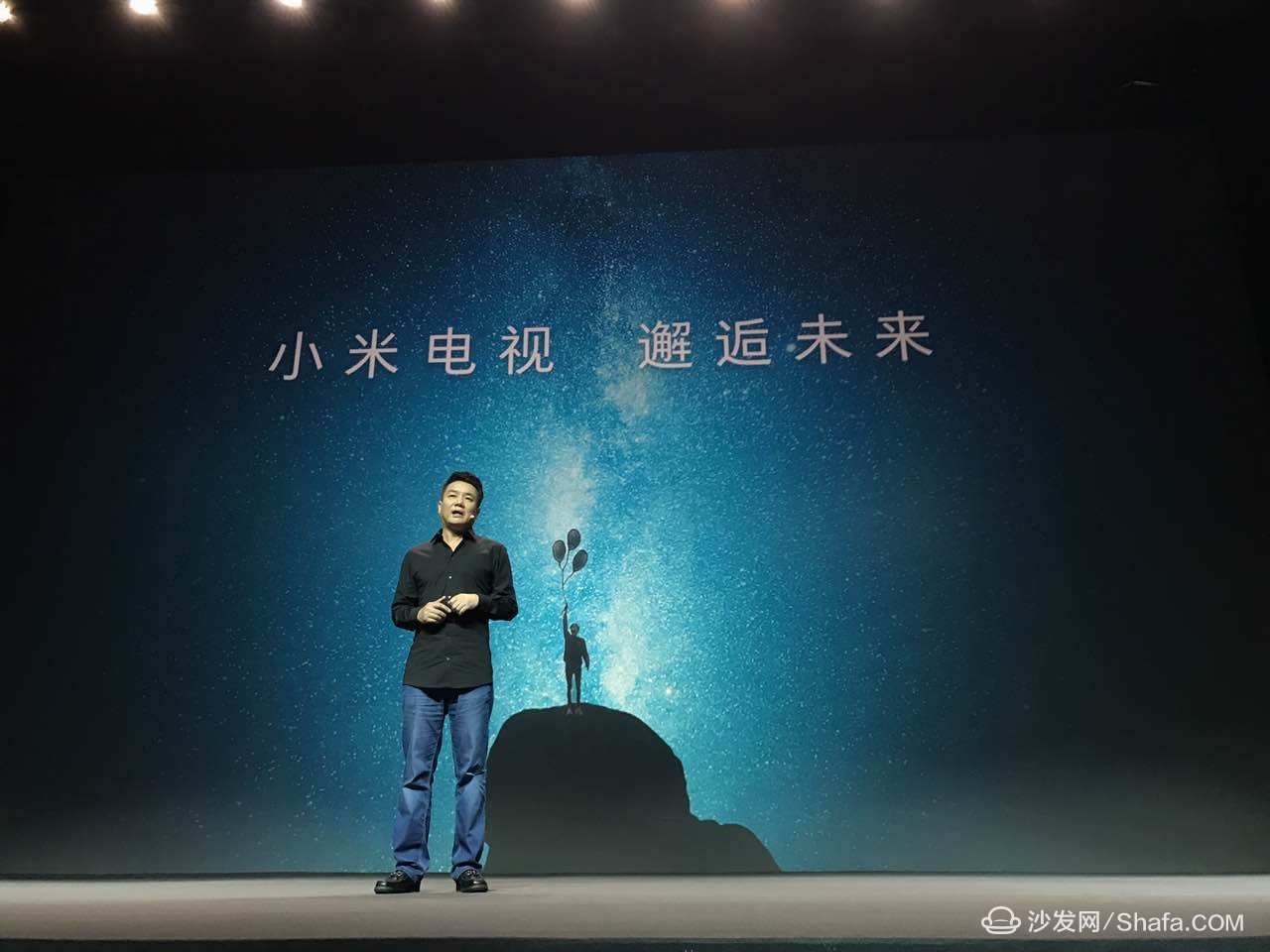 Both TVs have fully adopted the flagship configuration, upgraded 64-bit flagship processor, can support HDR; Samsung and LG original 4K screen, wide color gamut backlight technology NTSC 85% super, show stunning, extraordinary quality; appearance continues millet TV 3 series Red Dot Award design concept, the thinnest and thin metal at only 9.9mm, dual 45 ° drilling process to create a champagne gold diamond pattern highlights the fashion temperament. What is even more distinctive is that both TVs are pre-loaded with Xiaomi's first artificial-smart TV system, the "PatchWall puzzle wall," which can provide accurate content recommendation and understand the content better. This is also the first time that Xiaomi TV has applied the machine learning technology of the Xiaomi Brain team, especially deep learning technology, to the TV system.
Wang Chuan said: "Xiaomi is embracing artificial intelligence at full speed." He said that since 2013, Xiaomi TV has started research and development in the field of artificial intelligence, through the construction of many hidden layers of artificial neural network models, from massive video data Constant learning has led to the formation of a multi-layered deep structure that has achieved remarkable results in areas such as image recognition, speech recognition, semantic understanding, intention analysis, and other areas of artificial intelligence. For example, the current Xiaomi TV system can extract features from a large amount of video data. Make accurate matches for different users. "PatchWall puzzle wall" will lead users into the era of truly intelligent smart TV.
In addition to the robust hardware and system upgrades, Xiaomi TV has announced its entry into the new category - a 360-degree surround sound home theater device, including a main speaker, two surround speakers, and an upgraded subwoofer. This new category has enabled Xiaomi TV to achieve the best of both worlds in quality and sound quality, setting a new standard in the TV industry. At the same time, Xiaomi TV launched a 3s 65-inch home theater version of the millet TV, including a total of 5 sets of TV screens, priced at only 5999 yuan.
Millet TV 3s 65-inch and 55-inch stand-alone version, will be September 29th, Jingdong millet super brand day, in the millet mall, millet home, Jingdong, Tmall and other channels for sale. Millet TV 3s 65-inch home theater version is expected to officially open during the double 11 period.
PatchWall puzzle wall artificial intelligence TV system
The launch of this new millet TV equipped with a new build of artificial intelligence television system - "PatchWall puzzle wall." The system will seamlessly introduce the cutting-edge technology of the "Mi Brain" team into the deep learning and artificial intelligence system built by Xiaomi TV, and make a lot of interesting classifications for video content, such as "the name bears numbers "The movie", "the movie with only one person", and even the machine will give you a lot of unexpected film and television topics, such as "The drama that the hero and heroine kissed in the eighth episode" and "The movie that the money falls from the sky," and so on. And can continue to learn the habits of users and their families, so whether you are cute sister, or handsome uncle, and even a small baby, can do accurate recommendation, understand the content to understand you better.
According to Wang Chuan, the future millet TV system can also extract videos and posters of special needs from movies. For example, if users want to learn how others will give speeches, as long as they tell Xiaomi TV about this demand, it will immediately search out 27,000 movies for you. All speech video clips are taken out and presented to the user.
On August 14th this year, Dr. Wan Xiaohua of the Xiaomi Brain team successfully used the new algorithm (based on deep convolutional network: Faster RCNN Bootstrapped by Hard Negative Mining) to rank first in the FDDB face detection accuracy ranking.
In order to avoid the inability of massive contents to be presented, the "PatchWall puzzle wall" is specially designed with stylish magazine layouts and unlimited scrolling waterfall flow interfaces.
Xiaomi TV has formed an alliance with iQiyi, Tencent, and Youku. Its content has increased by 180%, and TV content is leading the way. This rich content experience needs to be presented more meticulously. Faced with more and more rich content, how to shorten the time for users to find tablets is the pain point that Xiaomi TV sets out to solve for users. The "PatchWall puzzle wall" of the second generation artificial intelligence TV system has greatly reduced the cost of finding movies, and users no longer have to Finding content in the application, turning on the TV is all film source, ubiquitous playback, click to be able to directly watch.
Fashionable magazine typesetting distributes literature and art children, infinitely rolling content waterfall stream leads the trend of new technology, finely presented personalized themes allow users to feel the temperature of artificial intelligence, just like giving life with emotions. Turning on the TV is your favorite content.
Flagship Configuration 64-bit chip supports HDR
In order to provide a powerful carrier for this artificial intelligence TV system, the two new products of Xiaomi TV have also adopted the flagship configuration in hardware.
Millet TV 3s 65-inch and 55-inch are equipped with a more powerful 64-bit flagship processor, quad-core Cortex-A53 architecture, clocked up to 1.8GHz, the chip embedded 750MHz high-order Mali-T830 GPU, graphics processing The capability is also greatly enhanced. It not only supports 4K 60fps H.265 hard decoding, but also supports HDR. The bright spot of the technology is to enable the screen to have a higher dynamic range, a wider color gamut, and brighter and darker field details. full.
Millet TV 3s 65-inch and 55-inch, respectively, using the original Samsung and LG's true 4K screen, Dachang quality assurance, resolution 3840 × 2160, is 1080P four times higher display more delicate; has 178 ° wide viewing angle, 8 ms response Speed, NTSC is as high as 85%, together with the underside LED backlight module jointly developed by Xiaomi TV and Rui Yiguang, it can bring more uniform display brightness than other brand TVs, thus providing consumers with more realistic and delicate display effect.
According to data from research institutions, many of the 4K TVs currently sold are pseudo 4K, and the display quality is poor. On the other hand, memory and storage are mostly made up of 1GB RAM+4GB ROM. This release of the millet TV 3s 65 inches has built-in 2GB DDR3 large memory and 8GB eMMC storage, which can lead to faster operation and processing speed. A large extent to meet consumer storage needs.
Stand-alone stereo with optional surround home theater
Millet TV has not only cultivated its picture quality and intelligent systems, but has also invested heavily in the sound quality areas that TV manufacturers do not value.
Millet TV 3s 65 inches redesigned the host, cloth appearance, more literary atmosphere, built-in two 2.5-inch bass speakers and two 20-ball dome tweeters, loudness up to 102dB (C), support for Dolby and DTS hardware Double decoding, support for virtual surround, bass boost, dialogue enhancement, automatic volume balance function, smoother and more stable than the traditional TV sound quality output.
Since millet TV 3's innovation and the introduction of split TV design, split has become a trend. It is synonymous with good sound quality and good design.
Even more surprising is that in order to meet the audiophile's ultimate pursuit of sound quality, Xiaomi TV announced that it has entered a new category - a new 360 degree surround sound home theater has been created, using its own proprietary immersive surround technology, equipped with front and rear dual Loudspeaker, 10.5-liter volume of ultra-shock subwoofer, greater advantage is that the connection of two rear surround speakers and millet TV host speakers using 5G wireless dongle connection, millet TV host speakers can also be freely connected to any television to achieve Networking is a true sense of smart home theater equipment, users can feel comparable to the cinematic audio-visual shock at home.
Wang Chuan, co-founder and co-founder of Xiaomi TV, said: "Once we have this home theater, I think you should review the past movies again and listen to all the songs again. You will be pleasantly surprised. There are so many details that you found that you haven't heard in the past."
Alliance BAT Big Three Leads the Industry
At this conference, the unprecedented lineup of Xiaomi TV's new content was also unveiled. As the leading brand of smart TV in China, Xiaomi TV has formally accessed China's top three content giants and created China's largest Internet TV content platform.
According to the data of Airui, China's video website has entered the "Big Three" era. Iqiyi, Tencent Video, and Youku ranked the top three in China's video websites. Among the top ten video websites, the average number of video sites per day accounts for more than three. More than 80%, far ahead of other video sites. As early as November 2014, Xiaomi invested in iQiyi and Youku and conducted content marriage. Today, Xiaomi TV ushered in a new heavyweight partner, Tencent Video, and its entire copyright content will be pre-set on Xiaomi TV. Behind the three major video websites of iQIYI, Tencent Video and Youku are Baidu, Tencent, and Alibaba. Xiaomi TV has formed an alliance with these three major video giants, becoming the only TV brand with three BAT content resources.
In addition to iQIYI, Tencent Video, and Youku, many heavyweight content partners such as PPTV and BesTV have also conducted in-depth cooperation with Xiaomi TV, which has led to the exponential growth of Xiaomi TV's content. Currently, Xiaomi's TV content reaches 2.8 times that of six months ago. It covers all core categories including movies, TV dramas, variety shows, sports, animation, children, education, and documentaries. Millet TV is a television industry regardless of quantity or quality. The "King of Content".
In 2016, it was a crucial year for Xiaomi TV to deeply lay out the ecology of sports content. Since the beginning of the year, Xiaomi TV has joined hands with the industry's top partners to truly make the big-screen sports viewing era. On April 25 this year, Xiaomi TV launched the "Golf Tennis Channel" on which users can watch golf events such as the PGA Tour. Afterwards, the contents of top events such as the Australian Open, China Open, European Cup and America's Cup also landed on Xiaomi TV. During the Olympic Games, Xiaomi TV access to the "China Internet TV" content platform operated by the Future TV provided users with the 2016 Olympic Games full-on-demand service. In September of the Golden Fall, PPTV Sports accessed millet TV and presented La Liga and users with La Liga, Bundesliga, Netherlands, Russia, European Champions League, European Union, AFC Champions League, South Africa Cup, NFL, WWE RAW/SD, UFC. And other more rich sports events. Just open the millet TV and enjoy the sporting events.
With the in-depth cooperation between Xiaomi TV, iQIYI, Tencent Video, Youku, PPTV and many other video platforms, the content advantage has undoubtedly become a strong driving force for the continued growth of Xiaomi TV, enhancing the appeal of Xiaomi TV to users. At present, the cumulative sales volume of Xiaomi TV and Xiaomi's box has exceeded 15 million. Calculated by a family of four, Xiaomi has more than 60 million people on the television. And, millet TV's current operating rate is 68%, which is much higher than the 56% average daily operating rate of the smart TV industry. Regardless of the amount of users or activity, Xiaomi TV is already the largest Internet TV platform in China.
"To be the best TV in the world, so that everyone can afford it." Wang Chuan finally stressed again that the original intention of Xiaomi TV has remained unchanged.
Smart TV/box information can focus on smart TV information network sofa butler (http://), China's influential TV box and smart TV website, providing information, communication, TV boxes, smart TVs, smart TV software, etc. Answering questions.
Rechargeable Handheld Vacuum Cleaner: This Mini Vacuum Cleaner can be used for cleaning hidden dirty of notebook keyboard, printer, pet food, office, kitchen table, or other small household appliances.
Car mini vacuum cleaner: This USB vacuum cleaner can be used for cleaning car vent, dashboard, storage cabinet, sand, dust, paper, food debris, and so on.
Rechargeable wireless vacuum cleaner: this vacuum cleaner power supplied by usb port, which is very easy and convenient to use and store.
Easy to use: this mini vacuum cleaners` filter can be washed by water. Just open the dust pot and take it out, then wash it clean and use it again after it dry.
Cordless Vacuum Cleaner,Cordless Mini Vacuum,Cordless Car Vacuum,Rechargeable Handheld Vacuum
SHENZHEN HONK ELECTRONIC CO., LTD , https://www.honktech.com